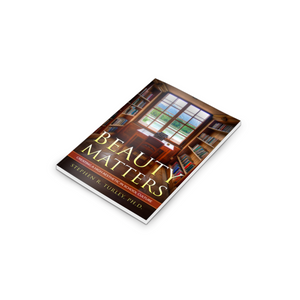 FINALLY, A PRACTICAL GUIDE TO TEACHING BEAUTY!
From classroom décor, to poetic infusion, to music and art appreciation, classical Christian education recognizes that students can have a higher aesthetic if teachers model a love of beauty. In this book, you will discover the nature of beauty, and how it relates to ordering the loves of our students, and learn a number of practical ways in which our schools can be spaces of beauty wherein your students' aesthetic sense flourishes. 
HERE'S A PREVIEW OF WHAT YOU'LL LEARN ….
What is Beauty

How Beauty relates to cultivating wisdom and virtue

6 ways to incorporate music throughout the school day

How to gaze at artwork

How to beautify your classroom

And much, much, more!
With 
Beauty Matters
, you will give your students the resources they need to love what is truly lovely, a gift they can cultivate for the rest of their lives. And that is beautiful! 
Get your copy today!